Desert Journey II- The Release Starts Now!
After a long year across the desert of pandemic, Desert Journey II arrives to join its first half…
This continued collaboration with long time producer Randy Emata explores world music and the conscious intent of sound and voice. Wear headphones when you listen and experience binaural beat enhancement for …
Genre: world groove, world mantra
Sounds like: Lisa Gerard, Dead Can Dance, Deva Premal
LINER NOTES: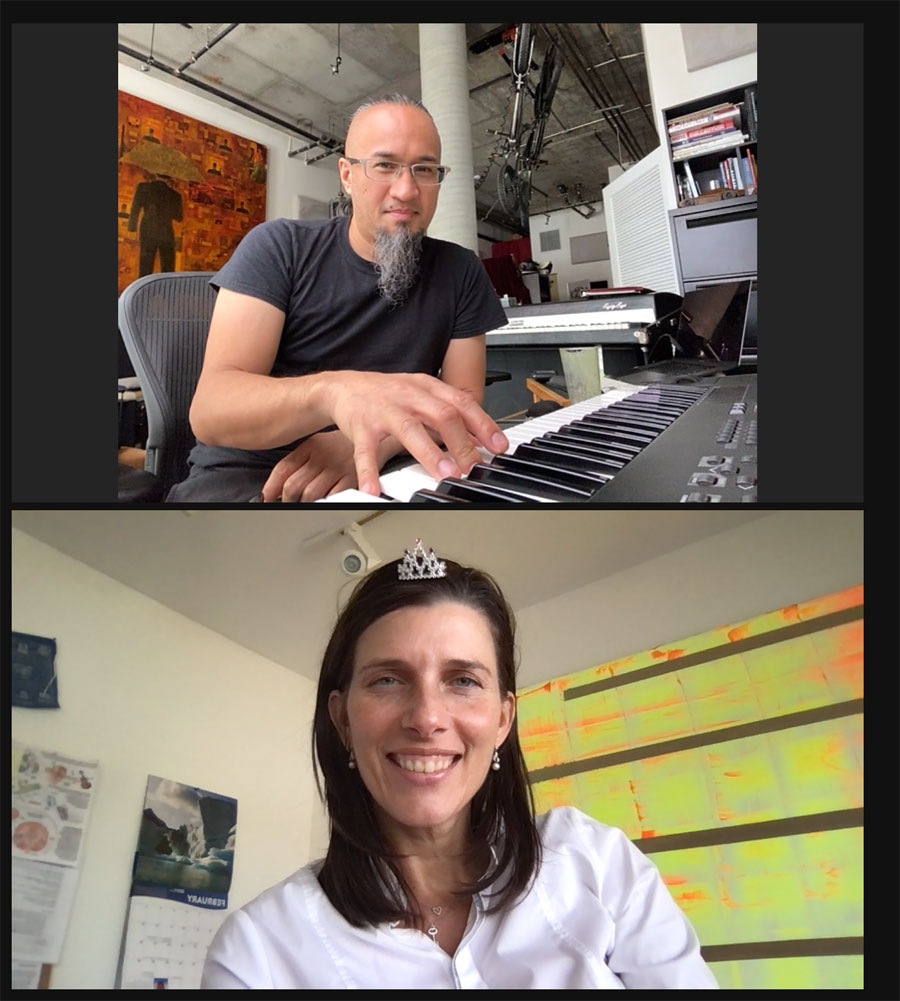 Above: Elizabeth & Randy EmataThis continuation of Desert Journey I is the same creation process, but this time we added binaural beats, which was the topic of Elizabeth's dissertation. It's a back and forth process with Elizabeth and Randy. We are constantly finding each other on the map of invisible sound vibrations and connecting. That's the healing of music, a reconnection, a constant connection—a place of togetherness. It's a chance to practice putting a frequency out there and seeing if you can find someone else on that same frequency. When we start, I'll give Randy a few words, or an example of a song, and Randy will create a soundscape out of the pure ether. I'll find the place in that soundscape that I'm looking for and match words to the sounds using an internet search. The world wide web is a genius place of intention made manifest. We can manifest our desires in record time. After I find the words, or mantras, I play with the music and find a melody, and add words of my own (my notes for these songs read: acceptance, peace, self-knowledge, awareness, the present moment is my true self, transformation—those are the threads of this creation). Then we record the vocals, and I really rely on Randy's ear and editing skills. As a singer who doesn't hear a lot of the pitches, I don't really know what I sound like, and so I rely heavily on my guide Randy.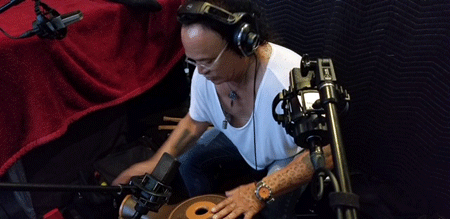 Percussionist- Leddie Garcia. So proud to have Leddie back to collaborate on these unique grooves. Leddie's most recent projects include: Cynthia Erivo, Keith Harris, Lady GaGa, Ariana Granda, Blood Pop and Burns .... Just to name a few !The recording of the vocals is magic. It's the place where conscious sound intention lives in a field of love. The magic intentions of rhythm and melody meet and birth a song in the loving acceptance and welcome of the songwriters. Then comes the fun part of finding and hiring spectacular musicians. In addition to the projects long time percussionist, Leddie Garcia, and classic multi-instrumentalist, Hasan Minowi, we have a very special new guest on this album. He is the violin player for one of my favorite all-time albums, "The Last Temptation of Christ" soundtrack by the extraordinary Peter Gabriel. He plays on the NOKE track. That track is dedicated to a dear friend Becky and her son Leo. Becky lives that unconditional love for her son, which takes her to a place of willingness to travel the golden thread of life based on the direction of her heart, rather than the directives of "experts." Because indeed, "no one knows everything, but everyone knows something." Thank you to everyone who worked on this album, from musicians to graphic designs (Alex and Robin at InCreation) to friends who take the time to give feedback (Jean Renard). Thank you for joining us on this desert journey of discovering the oases of love all around us.
Sonic Blessings,
Elizabeth & Randy
Desert Journey II
Music © 2021 R. Emata for Speeding Ticket Publishing
Melody and Lyrics © 2021 Elizabeth K. for Sound Medicine
1. NOKE (No One Knows Everything)
Music by Randy Emata
Vocals: Elizabeth
Percussion: Leddie Garcia
Violin: Shenkar
Binaural Beats: Moving Meditation
"Tayata Om Bekanze
Bekanze Maha
Bekanze Radza
Samudgate Soha"
Medicine Buddha Mantra. "A chant that is recited for success, helping to eliminate problems and suffering. It is also recited for healing and to benefit people or animals at all times, even when they are healthy."
"No one knows everything,
Everyone knows something"
2. Peace
Music: Randy Emata
Vocals: Elizabeth Szatmari
Ney: Hasan Minowi
Percussion: Leddie Garcia
Binaural Beats: Meditation
"Om Shanti, shanti, shanti
Om Shanti, shanti, om
Om Shanti, shanti, shanti
Om Shanti, shanti, om
Saveshaam Svaastir Bhavatu
Saveshaam Shantir Bhavatu
Saveshaam Poornam Bhavatu
Saveshaam Mangalam Bhavatu"
-"is said to bring peace and tranquility"
Translation:
"May health abound forever
May peace abound forever
May complete abundance abound forever
May auspiciousness abound forever
Om, peace, peace, peace"
"Om Ami Dewa Hrih"
Amithaba "is the sacred mantra of Buddha, and enhances compassion while bringing blessings each time it is spoken. You will be protected from dangers and obstacles."
3. Success
Music: Randy Emata
Vocals: Elizabeth Szatmari
Percussion: Leddie Garcia
Ney: Hasan Minowi
Binaural Beat formula: "No Mind" State
"Har Har Har Har Gobinday
Har Har Har Har Mukhunday
Har Har Har Har Udharay
Har Har Har Har Aparay
Har Har Har Har Hariong
Har Har Har Har Kariang
Har Har Har Har Nimamay
Har Har Har Har Akamay"
"Seeking Success. This chant contains the eight facets of God and uses for repetitions in each verse to give the power necessary to break down barriers from the past and give power to the person chanting."
"Om Vasudhare Svaha"
Buddhist Money Mantra is a prayer to the earth goddess, Vasudhara. The chant should be repeated 108 times in order to be blessed by deities who will shower them with abundance."
Note: All chants and text taken from the article in Inc.com "20 Awesome Chants That Will Radically Improve Your Life. Retrieved Feb 27, 2021.
Binaural Beat formulas designed by Elizabeth and Randy