Desert Journey Album Release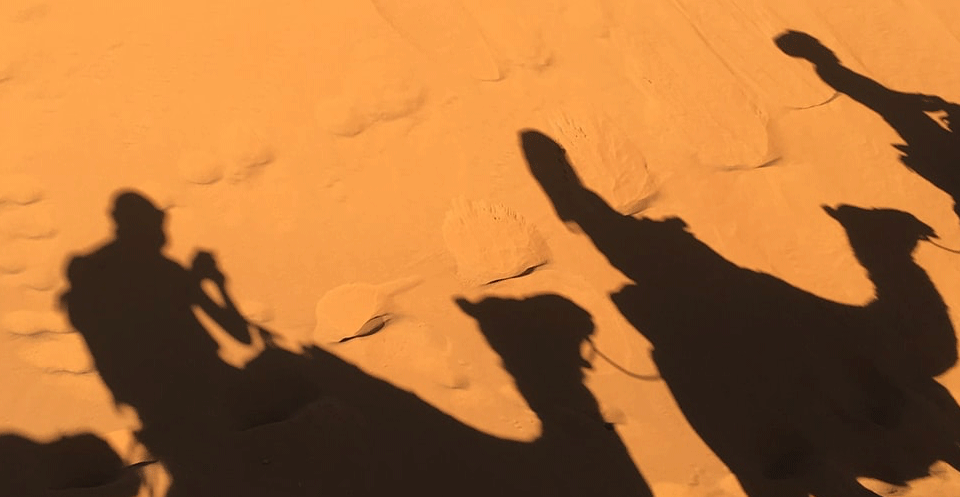 It is here! Desert Journey has been released!
...And it has been a long journey across that Desert!
This collaboration with long time producer Randy Emata explores world music.
Genre: world groove, world mantra
Sounds like: Lisa Gerard, Dead Can Dance, Deva Premal
PURCHASE OR DOWNLOAD:
Amazon Store (physical CD or download)
Itunes (digital download)
STREAM:
7digital
Akazoo
Amazon Music
Anghami
Apple iTunes
Line Music
Saavn
Shazam
Slacker Radio
Spotify
Yandex
YouTube Music
LINER NOTES:
Dear Listener,
Please be advised that I have invited the energy and vibrations of many different cultures here in the spirit of play, exploration, and my own process as a white, bi-cultural woman of European descent. As I am blended, and so do I blend the cultures that I encounter into a tapestry of magic and meaning. I have done this with the utmost intention of respect and honor. These are powerful vibrations, and I approach them as ancient wise guides and medicines.
If a chant or a culture resonates with you, I encourage you to follow the trail and explore the ancient versions for yourself.
My wish and intention for you in listening to this music, is to find mantras, melodies and rhythms that bring you the frequency medicine you need in your life right now. These are the kind of musical "hooks" that you do want to get stuck in your head.
I also intend with deep consciousness for all cultures and traditions to be respected, in the name of a path of compassion and unity.
Some of the English words that I sing, are my poetry and prose that I adapt from the translations, except where noted as prayers from specific cultures.
All chants and mantras within a song are selected for the thread of meaning specific to that song.
Sonic Blessings,
Elizabeth
Desert Journey
Music © 2019 R. Emata for Speeding Ticket Publishing
Melody and Lyrics © 2019 Elizabeth K. for Sound Medicine
1. Happy
Music by Randy Emata
Vocals: Elizabeth
"Lokah Samastah Sukhino Bhavantu", a Sanskrit chant.
May all of the beings be happy
May all of my thoughts and my words and my actions
Bring you a way to be happy
And to all beings
And to all beings
~ Elizabeth
2. In Case You Are Lost
Music & Vocoder: Randy Emata
Crystal bowl: Elizabeth
Vocals: Elizabeth
"Guru, Guru, Wahe Guru, Guru Ram Das, Guru"- A Sanskrit chant.
"Sa Ta Na Ma, Ra Ma Da Sa, Sa Say So Hung"- Siri Gaitri Mantra.
"Keeper of what disappears,
Hear me now—open your ears.
Find for me what I now seek,
By Moon, Sun, Earth, Air, Fire and Sea."
~ Wiccan chant for finding lost things.
3. Follow Me Into The Mystery
Music: Randy Emata
Violin: Shiva Ramamurthi
Kalimba: Elizabeth
Vocals: Elizabeth
"Ek Ong Kar, Sat Nam, Siri Wha He Guru" – Adi Shakti Mantra.
4. Protection
Music: Randy Emata
Violin: Charlie Bisharat
Vocals: Elizabeth
"Aum Bhur Bhuva Svaha, Tat Savitur Varenyam, Bhargo Devasya Dhimahi, Dhiyo Yo Naha Prachodayat" - Gayatri Vedic Mantra.
5. Forgive Me
Music: Randy Emata
Nai: Hasan Minowi
Vocals: Elizabeth
"mantrahinam kriyahinam bhaktihinam mahesvara
Yatpujitam maya deva paripurnam tadastu te"
- Puja- Prayer for Forgiveness
"Please forgive me
I'm so sorry
I love you
Thank you"
- Ho'oponopono- Hawaiian prayer for forgiveness
6. As It Is
Music: Randy Emata
Vocals: Elizabeth
"Mar a tha…moladh do Dhia", a Gaelic fonn (song, chant, state of mind)
As it is, so shall it be.
We give thanks, so shall it be."
~ Elizabeth
7. Amun
Music and Harmonizer Vocals: Randy Emata
Vocals: Elizabeth
"Our Father Mother Who art above and within.
Hallowed be Thy Name in twofold Trinity.
In Wisdom, Love and Equity Thy Reign (Kingdom) come to all.
Thy will be done, As in Heaven so in Earth.
Give us day by day to partake of Thy holy Bread,
And the fruit of the living Vine.
As Thou dost forgive us our trespasses, so may we
Forgive others who trespass against us.
Show upon us Thy goodness, that to others we may
Show the same.
In the hour of temptation, deliver us from evil.
Amun"
~ Lords Prayer, from the original Aramaic, G.J.R. Ouseley's alternative translation.
8. Ancient Muse
Music: Randy Emata
Crystal bowl: Elizabeth
Vocals: Elizabeth
9. Fearless
Music: Randy Emata
Vocals: Elizabeth
"Om Hom Jun Saha" - Mahamritunjaya Beej Mantra
"I am fearless.
I am conscious.
I can handle any chaos that may come."
~ Mantra given to me by Dr. Ramm Pandeya
10. Renew
Music: Randy Emata
Violin: Shiva Ramamurthi
Vocals: Elizabeth
Additional Vocals: Adel Rabinovich
"Earth below, sky above.
Fill the dark of night with love.
The Morning Sun will take my pain.
And I will wake renewed again.
The time has come
Renewed by Sun
To count my blessings one by one"
~ Shamanic Healing Chant by Flying Eagle
"Om namah Shivaya", Sanskrit chant to remind us that we are divine.