Science of Consciousness - April 2022
The Science of Consciousness conferences have been held in Tucson, Arizona every two years, alternating with TSC conferences elsewhere since 1994. Due to the pandemic, the 2020 and 2021 conferences were held online. The 29th annual TSC conference, the 29th annual TSC conference will be held April 18-22, 2022 in Hybrid Format, with presentations and audience both In-Person, and Online/Remote. The In-Person sessions and Online/Remote headquarters will be at Loews Ventana Canyon Resort.
April 18-22, 2022
Loews Ventana Canyon Resort and Online
Hybrid Format: In-Person and Online/Remote, Live-Streamed
Eventbrite - Registration In-person and Remote
LOEWS Ventana Canyon Resort
Early group rate
Receive E-Notices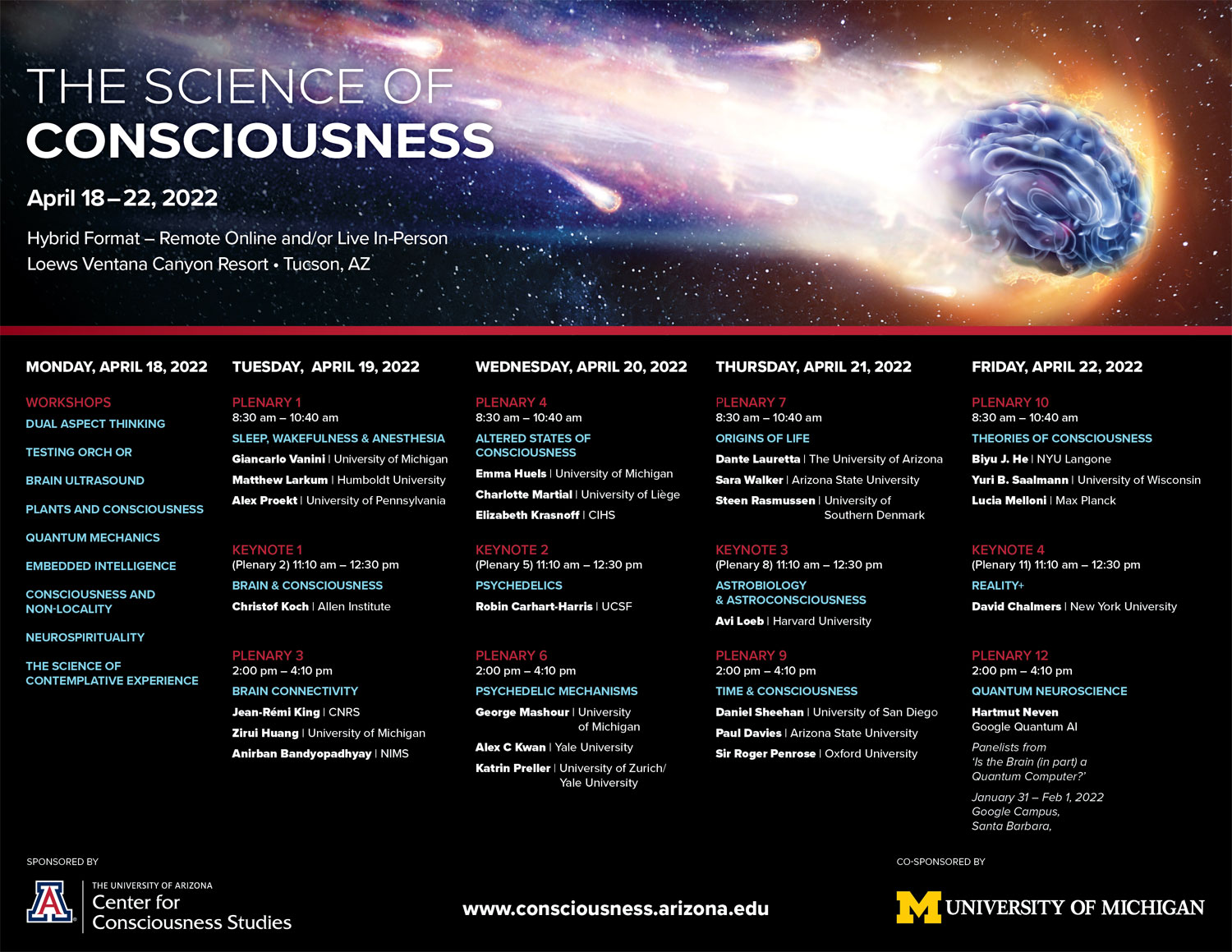 ---
More Detail
MONDAY, April 18, 2022 - WORKSHOPS (SEE BELOW)
TUESDAY, April 19 – Friday, April 22 - PLENARY AND KEYNOTE SESSIONS
(3 sessions per day, Tuesday, April 19 through Friday, April 22). Live sessions will be held in the Kiva Ballroom at Loews Ventana Canyon Resort, and all sessions will be live streamed for remote registrants.
KEYNOTE - PLENARY Sessions, Bios, Photos, Abstracts
TUESDAY, April 19, 2022
Plenary 1 - 8:30 am - 10:40 am
SLEEP, WAKEFULNESS & ANESTHESIA
Giancarlo Vanini, University of Michigan
Matthew Larkum, Humboldt University
Alex Proekt, University of Pennsylvania
KEYNOTE 1 - Plenary 2 - 11:10 am - 12:30 pm
BRAIN & CONSCIOUSNESS
Christof Koch, Allen Institute for Brain Science
Plenary 3 - 2:00 pm - 4:10 pm
BRAIN CONNECTIVITY
Jean-Rémi King, CNRS, Ecole Normale Supérieure de Lyon
Zirui Huang, University of Michigan
Anirban Bandyopadhyay, National Institute for Materials Science, NIMS, Tsukuba, Japan
WEDNESDAY, April 20, 2022
Plenary 4 - 8:30 am - 10:40 am
ALTERED STATES OF CONSCIOUSNESS
Emma Huels, University of Michigan
Charlotte Martial, University of Liège
Elizabeth Krasnoff, California Institute for Human Science
KEYNOTE 2 - Plenary 5 - 11:10 am - 12:30 pm
PSYCHEDELICS
Robin Carhart-Harris, University of California, San Francisco
Plenary 6 - 2:00 pm - 4:10 pm
PSYCHEDELIC MECHANISMS
George Mashour, University of Michigan
Alex C Kwan, Yale University
Katrin Preller, Univ. of Zurich | Yale University
THURSDAY, April 21, 2022
Plenary 7 - 8:30 am - 10:40 am
ORIGINS OF LIFE
Dante Lauretta, University of Arizona
Sara Walker, Arizona State University
Steen Rasmussen, University of Southern Denmark
KEYNOTE 3 - Plenary 8 - 11:10 am - 12:30 pm
ASTROBIOLOGY & ASTROCONSCIOUSNESS
Avi Loeb, Harvard University
Plenary 9 - 2:00 pm - 4:10 pm
TIME & CONSCIOUSNESS
Daniel Sheehan, University of San Diego
Paul Davies, Arizona State University
Sir Roger Penrose, Oxford University
FRIDAY - April 22, 2022
Plenary 10 - 8:30 am - 10:40 am
THEORIES OF CONSCIOUSNESS
Biyu J. He, New York University, Langone
Yuri B. Saalmann, University of Wisconsin
Lucia Melloni, Max Planck Institute, Frankfurt
KEYNOTE 4 - Plenary 11 - 11:10 am - 12:30 pm
REALITY+
David Chalmers, New York University
Plenary 12 - 2:00 pm - 4:10 pm
QUANTUM NEUROSCIENCE
Hartmut Neven, Google Quantum AI
Panelists from 'Is the brain (in part) a quantum computer? January 31-February 1,
Google Quantum AI Campus, Santa Barbara
MONDAY, April 18, 2022
Workshop-Panels Descriptions, Speaker Bios
Session 1 - MONDAY MORNING WORKSHOPS - 9:00 am - 12:30 pm - (Kiva, Grand Ballroom A/B/C)
PROGRESS ON DUAL-ASPECT THINKING
Harald Atmanspacher, The Collegium Helveticum, ETH, Zurich
Paavo Pylkkanen, University of Helsinki | University of Skövde
Dean Rickles, University of Sydney
Robert Prentner, University of Munich
TESTING ORCH OR: UPDATE ON 'TWCF'PROJECT
Bruce MacIver, Stanford University
Jack Tuszynski, University of Alberta/Politecnico di Torino
Aarat Kalra, Princeton University
Greg Scholes, Princeton University
Aristide Dogariu, University of Central Florida
Travis Craddock, Nova Southeastern University
BRAIN MODULATION WITH TRANSCRANIAL ULTRASOUND
Jay Sanguinetti, University of Arizona
Sasha Bystritsky, The University of California, Los Angeles
Seung-Shick Yoo, Harvard University
Martin Monti, The University of California, Los Angeles
QUANTUM MECHANICS AND CONSCIOUSNESS
Justin Riddle, University of North Carolina
Johannes Kleiner, Ludwig Maximilian University of Munich
Kelvin J. McQueen, Chapman University
Session 2 -MONDAY AFTERNOON WORKSHOPS
2:00 pm - 6:00 pm
EMBEDDED INTELLIGENCE
Bill Mensch, Western Design Center
Dante Lauretta, University of Arizona
Stuart Hameroff, University of Arizona
Ted Humphrey, Arizona State University
Andrew Maynard, Arizona State University
PLANTS AND CONSCIOUSNESS
M. Bruce MacIver, Stanford University
Deepak Chopra, Chopra Global
Rainish Khanna, Ph.D., I-Cultiver
CONSCIOUSNESS AND NON-LOCALITY
Stephan A. Schwartz, Saybrook University
Julia Mossbridge, University of San Diego, IONS, TILT
Dean Radin, Institute of Noetic Science (IONS)
THE SCIENCE OF CONTEMPLATIVE EXPERIENCE
Matthew Sacchet, Harvard University
Daniel Ingram, Emergent Phenomenology Research Consortium, EPRC
Julieta Galante, Cambridge University
Jay Sanguinetti, University of Arizona
Session 3 - MONDAY EVENING WORKSHOP
7:00 pm - 10:00 pm
NEUROSPIRITUALITY
Michael Ferguson, Harvard University
Jenae Nelson, Brigham Young University
David Yaden, Johns Hopkins University
Rick Strassman, University of New Mexico
Presenters: (bios, photos, abstracts/session descriptions)
Keynote
Plenary
Workshops/Panels
To be announced:
Concurrents
Posters
Exhibitors
Art-Tech-Health Exhibits
PROGRAM COMMITTEE
Co-Chairs:
Stuart Hameroff University of Arizona
George Mashour, University of Michigan
Committee:
Thomas Bever, University of Arizona
Jay Sanguinetti, University of Arizona
Dante Lauretta, University of Arizona
M Bruce MacIver, Stanford University
Abi Behar-Montefiore, University of Arizona
SPONSOR: CENTER FOR CONSCIOUSNESS STUDIES, UNIVERSITY OF ARIZONA
CO-SPONSOR: CENTER FOR CONSCIOUSNESS SCIENCE, UNIVERSITY OF MICHIGAN
Alvin J. Clark Foundation
Jhong Family Foundation
Mani Bhaumik
Anonymous Donor
Media Sponsors
Journal of Consciousness Studies | Imprint Academic
CENTER FOR CONSCIOUSNESS STUDIES LINKS
This email address is being protected from spambots. You need JavaScript enabled to view it. (link sends e-mail)
TSC conferences - Since 1994
Questions: This email address is being protected from spambots. You need JavaScript enabled to view it.
Website: http://www.consciousness.arizona.edu/